SPOT

+

Conference & Networking
Tickets for SPOT+, the conference branch of the SPOT Festival are now available for purchase and to mark that we are pleased to reveal some of the highlights of next year's activities
Music & Media Friday
Music & Media Friday is a new initiative as part of SPOT+. In the course of two seminars we are going to discuss music in relation to commercials, brands, film, and television. Below there is information about the two seminars "Let's Talk Music & Brands" and "Let's Talk Synch".
Let's Talk Music & Brands

In collaboration with the content and partnership bureau Volume, we are pleased to invite you to a morning dedicated to music and brands. With Arnon Woolfson, Head of Entertainment at Synergy in London (part of The Engine Group) and senior advisor in Polar Music Prize as key note speaker as well as representatives from Danish and international bureaus and brands there will be ample opportunity to gain insight in trends and cases and to learn more about how you navigate in a landscape of very diverse interests and how to create fantastic strategies for brands with music at the centre.
The complete program will follow soon.
Let's Talk Synch

After our "Let's Talk Music & Brands" we are going to let Tess Taylor, NARIP (National Association of Record Industry Professionals), take over as moderator at our big synch seminar "Let's Talk Synch". Here a large number of music supervisors and synch agents are going to discuss the latest trends when it comes to coupling music to TV, film and commercials and throw some cases and best practices in the mix.
The complete program as well as the participants will be announced soon.

Other seminars and activities at SPOT+:
Let's Talk Digital
With topics such as "The Blockchain Revolution", "Dissecting the Digital Dollar" and "Creating Nordic Playlists", we once again take a look the opportunities and challenges in the digital age with keynotes from among others Benji Rogers, founder/Pledge Music & co-founder/Dot Blockchain Music, New York // Chris Cooke, CMU-Complete Music Update, London // and Jacob Herbst, Head of Content Programming & Editorial/Spotify, Stockholm.
Let's Talk Digital takes place on Saturday 6th May. More speakers will be announced.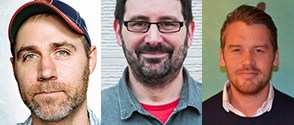 From the left: Benji Rogers, Chris Cooke, Jacob Herbst.
Meet the Music Supervisors IV
Our coveted speed meetings will return with yet another dream team of international music supervisors. In 2017 the team will include Thomas Golubic, Supermusicvision, Los Angeles. // Jenny Ring, Forsman & Bodenfors, Stockholm. // Eric Johnson, McCann, New York. // Morgan Thoryk, TBWA\Media Arts Lab, Los Angeles. // Sophie Urquhart, Tin Drum Music, London.
Meet The Music Supervisors IV takes place on Saturday 6th May. We will announce more music supervisors in the months to come.
Participation in Meet The Music Supervisors – only on the basis of application. More information to follow.

From the left: Thomas Golubic, Morgan Thoryk, Eric Johnson, Jenny Ring and Sophie Urhuhart 

Music Cities Network Seminar
In collaboration with cities such as Hamburg, Groningen and Sydney the newly founded Music City Aarhus network is part of the new international Music Cities Network as a so-called 'founding city'.
At SPOT+ representatives from the network and a number of panel members and speakers will discuss the idea of music cities serving as a motor for growth and collaboration.

– – –
If you would like more information on SPOT+, please get in touch with
Jesper Mardahl, jesper@promus.dk – +45 8694 2019.